Readings and Events: Past and Present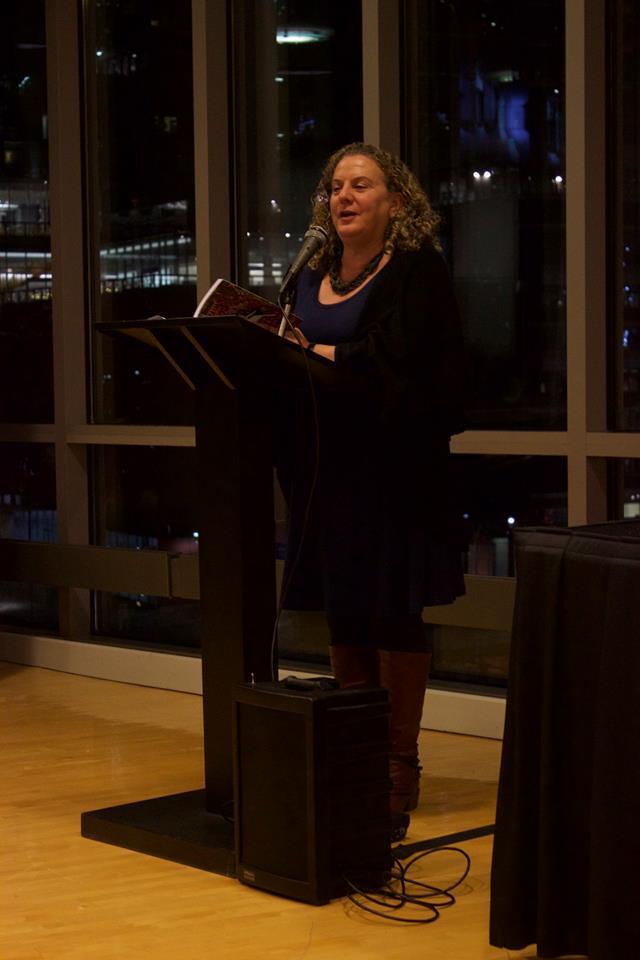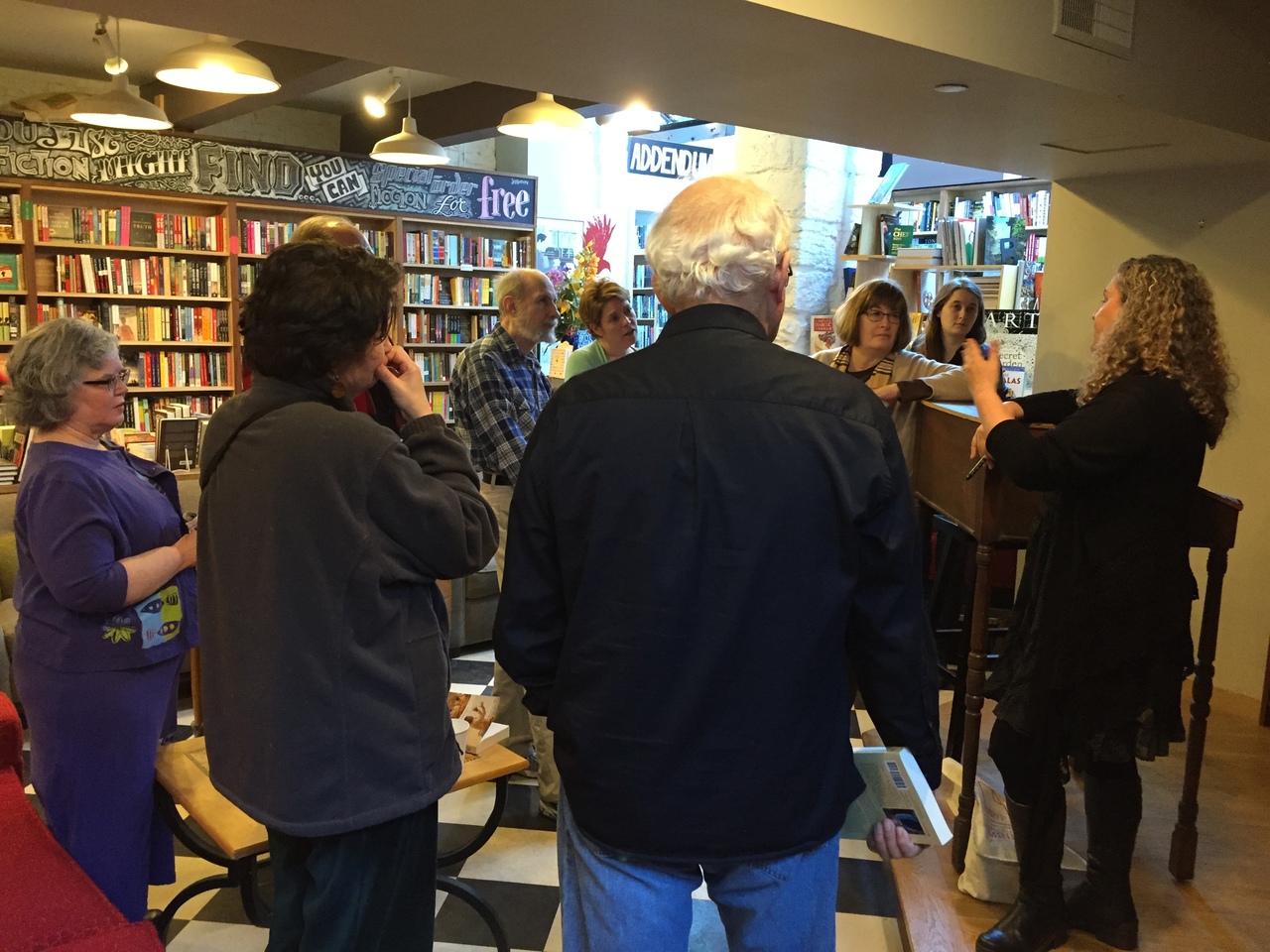 Upcoming and recent events
Upcoming and recent events
September 9th: Printer's Row Lit Fest 2PM 731 S. Plymouth Ct.
The Language of Lakes and Rivers with Kathryn Haydon and Joni Wallace
October 15th: Har Zion Oak Park, Illinois Jewish Poetry Panel with Hila Ratzabi and Jamie Wendt
*
April 2nd: 3:00 Launch for poetry collection, Shore. By invitation Evanston, Illinois
April 8th: Featured poet with Highland Park Poetry Laughlin Gallery 1900 Sheridan St. 4PM
April 18th: Poetry reading from Shore with Nicole Hefner Callihan Brooklyn Public Libraray/Dumbo 630PM
April 20th: Poetry reading from Shore with Dipika Mukerjee at Seminary Book Coop 6PM
May 2nd Poetry Reading from Shore Urbana Public Library with Robert Manaster 7PM
May 18th Words of Light: Jewish Poetry Panel with Hila Ratzabi and Jamie Wendt Anshe Emet Synagogue
3751 Broadway Chicago 7PM
May 21st Poetry, Memoir, Fiction and the Art of Remembering with Sandi Wisenberg and Goldie Goldbloom
Loop Synagogue 16 S. Clark Street Chicago 2PM
May 23rd Poetry reading with Nicole Callihan The Book Cellar 4736 N.Lincoln Chicago 7PM
May 28th Poetry Reading from Shore Sunday Salon Roscoe Books Chicago 7PM
June 18th Poetry reading with Hungry Brain reading series
July 30th New York City Poetry Festival with Nicole Calihan and Hila Ratzabi
Recent events:
May, 29th 2022 5:30 Literary Modi'in, Israel Reading from Drawn from Water with Sarah Ansbacher
February 22, 2021 7:00 PM Poetry Reading celebrating the anthology 101 Poems of the Third Millenium at Buffalo JCC with Nancy Naomi Carlson. Jane Yolen, Jane Hirschfeld and others
March 20,2020 (virtual) Reading at Bookends with other contributors to Fury anthology
September 8, 2019 ShirTikvah Congrgation, Homewood Illinois, Drawn from Water 2:00pm
August 5, 2019 Scribblers on the Roof Reading Series, Drawn from Water, Anche Hesed NYC 8:00 pm
June 12, 2019 Poetry Reading with other contributors to Caesura Tel-Avivi University 4:00pm
Reading from Drawn from Water
June 10 7PM AACI Beer Sheva, Israel (details to follow)
May 11 Evanston Lit Fest
Please join us at Bookends & Beginnings as we kick off the week-long 2019 Evanston Literary Festival with local poets and writers. Reading new work on themes of renewal, celebration, and gratitude, hosts Dina Elenbogen and Ignatius Valentine Aloysius will join authors Reginald Gibbons, Chris Green, Mary Hawley, Parneshia Jones, Mike Puican, Cornelia Maude Spelman, Sachin Waikar, and Zoe Zolbrod. May 11 Bookends &Beginnins 6:00-7:30pm
March 7 Lecture on Voice in Memoir
Open Books West Loop 6:00 PM
November 18 Sunday Salon Reading series
with Will Bost, Rebecca Makkai and Jeremy T. Wilson
The Reveler Roscoe St. and Damen Chicgao 7PM
October 8 Featured Poet at Travelling Mollys reading series
Buzz Cafe Oak Park, Il 6:30
May-July 2018 events

Applied Words:
American Authors, Transnational Voices
Tuesday, July 31, 2018 from 7 – 9 PM
Chopin Theatre
1543 W. Division, Chicago
Free
At a moment when the US government seems to be pushing much of the rest of the world away, Natania Rosenfeld has assembled a program of writers whose work is informed by backgrounds, experiences, and research that reach across national borders. The memories and histories of persecution, migration, exile, and assimilation threaded through these authors' poetry and prose are a welcome reminder that American writing is always already global. i will be reading with Faisal Mohyuddin, Natania Rosenfeld and Ruth Danon.
Evanston Lit Fest
From Paralysis to Protest: Mobiizing Resistance
I am hosting and participating in this reading with other poets, writers and activists
Bookends & Beginnings May 12: 6 PM
https://www.evanstonlit.org/schedule/2018/5/12/writers-resist-2018-from-paralysis-to-protest-mobilizing-resistance-1
Hippocrates Poetry Prize Reading
I am reading at this event with other finalists
Poetry Foundation 4 PM Friday May 11
https://www.poetryfoundation.org/events/145012/hippocrates-prize-reading
POETRY READING
AT CULTIVATE URBAN RAINFOREST & GALLERY
I will read poems with other contributors to the anthology in Plein Air
704 Main Street, Evantson, IL
4:30 - 6:30 pm
Saturday, June 2, 2018
Free & open to the public.
Printers Row Lit Fest
I will give a mini-lecture on Memoir Writing: discovering a self and a world
University of Chicago Writers Studio event
Sunday, June 10 3PM
*
2017 events
July 29: 3:00 Poetry reading at Innisfree Poetry Bookstore 1301 Pennsylvania Avenue Boulder, CO
July 15 1:00 Opening lecture at Bussiness of Writing Seminar University of Chicago
Tour schedule with Drawn from Water, Poetry Readings, & Panels, January-May 2017
January 15: Poetry Reading at Woman Made Gallery: "Inauguration: Affirmation, Empowerment and Resistance" I will read poems on this topic with poets, SusannaLang,
Ugochi Nwaogwugwu, Kee Stein, Kimberly Marie Ousley and Freesia McKee. 1:00 pm
We are part of the Writer's Resist network with readings throughout the city and country.
February 10: AWP Panel: When Writers Move In and Out of Their Countries and Genres
with Harriet Levin Millan, Fabienne Josephat and Kelvin Christopher James time TBA
February 28: San Francisco State University Lecture on Drawn from Water 4:00
March 2: UC Berkeley Talk/Reading from Drawn from Water 6:30 pm Judah Magnes Museum
March 6: UC San Diego Discussion/Reading Drawn from Water 5:00pm
April 30 Temple Israel Long Beach Reads One Book: Drawn from Water
May 7 : 7:00 Evanston Literary Festival. Celtic Knot Evanston Poets Resist Reading with
Virginia Bell, Eran Tseglov, Mike Puican and Ignatius Valentine Aloysius
May 21st 4:00 Israel stories with six other story tellers Double Tree Hotel Skokie
Events 2016
January 23 3:00 Seminary Book Coop, Chicago
I will be reading from Drawn from Water and Aviya Kushner will be reading from her new memoir, The Grammar of God, followed by a conversation between the two of us.
March 10, 6:30 pm Temple Sinai Newport News, Virginia
April 5, 7:00 pm Brandeis Alumni Group Baltimore, Maryland
May 14 5:30 Evanston Literary Festival, Unicorn Cafe: Poetry reading with Chris Green,
Rachel Jamison Webster, Christina Pugh and John McCarthy
June 11 4:15 Printer's Row Lit Fest Reading with University of Chicago Writer's Studio.

Events 2015
October 3rd- Amherst poetry Festival- Poetry reading 2:00 Emily Dickenson Homstead
Amherst, Mass. I will be reading new poems from my manuscript: The Language of Rivers
October 11- I will be reading from and discussing Drawn from Water at The Bookstall
3:00 811 Elm street Winnetka
October 19 Max and Benny's Jewish Author Series 7:00- Discussing Drawn from Water
461 Waukegan Rd. Northbrook, Il.
Bookends and Beginnings: Memoir Writing Workshop
Wednesdays October 19 and 26- 10:30-12:00
August 30th- 9:00 Orot: Center for Jewish Learning, Wilmette, IL.
Shofar as an opening to Expression: Creative Writing
Teaching with Rebecca Minkus-Liberman
June 18- Stories from the House of Truth. Reading fiction with others
May 16: Evanston Lit Fest 3:00 Poetry Reading with Parneisha Jones and others
922 Davis Evanston
May 20- Reading and discussion of Drawn from Water Beth Emet Evanston 7:30
May 31 Seminary Book Coop Hyde Park Reading from Drawn from Water 3:00
May 10: Reading from Drawn from Water: That's All She Wrote Live Lit Great Lakes Tatoo
1148 Grand Avenue Chicago 8:00 pm
April 29-Poetry Reading with Natania Rosenfeld and Aviya Kushner Women and Children First, Chicago
April 26: Reading at University of Iowa Hillel/Prairie lights 2:00
April 17: Reading from Drawn from Water at Box Car Books Bloomington Indiana 7:00 pm
April 11 2015: Reading@ Subtext Books 165 Western Ave. North St. Paul, 2:30 pm
April 10 2015: Signing@ Associated Writing Programs Book fair Bk MK Press 12:30-1:30
April 2 2015: Reading from Drawn from Water at The Book Cellar Chicago
4736 N. Lincoln Avenue Chicago 7:30 pm
March 15 2015 : Launch Reading for Drawn from Water at Bookends and Beginnings
Evanston, Illinois 3:00pm
February 27 2015: Panel: Celebrating Saul Bellow's Centenary Cliff dwellers Chicago 5:30 pm
2014
May 18, 2014 Zolla/Liberman Gallery West Huron Chicago 4:00-6:00
Launch Reading for Vol. 25 of december Magazine. With Marvin Bell.
March 1st 2012 Panel @ AWP Conference Chicago Writing in The City that Works:Chicago Writing in the 21st Century. Palmer House Hotel. Noon
February 29, 2012 A Festival of Language Poetry Reading (with other Chicago poets)
Rock Bottom Brewry 1 Grand Avenue 5:30 p.m.
July 29, 2011 Rhino reads featured poet Evanston, Illinois 7:00
May 2010 Reading my fiction from anthology Where We Find Ourselves, SUNY 2009 (sponsored by UniVerse of Poetry and WBEZ Radio)
with other local contributers
Katerinas, Chicago 8:00
January 9, 2010
Poetry Reading: Sponsored by Kfar and Zeek Magazine
with Kevin Coval and other local writers
Chopin Theater, Chicago 8:00
June 29, 2009: T'mol Shilmshon King Solomon St. Jerusalem 7:00
Reading from Apples of the Earth
with Karen Alklay Gut
June 7, 2009: Printer's Row Book Festival 3:00
Reading with other contributors from Where We Find Ourselves
May 6, 2009: Chicago Cultural Center 6:00
A Celebration of Israel through Poetry
Info. siegbogen@aol.com

April 17, 2009: Flatfile Galleries
217 North Carpenter Chicago 7:00
The Marriage of Poetry Readings and Performances
Info. www.universeofpoetry.org
April 22, 2009: Barnes and Noble at De Paul Center
1 East Jackson Blvd. Chicago 6:00
Readings from Where We Find Ourselves: Jewish Women Around the World Write About Home
January 17, 2008: Nextbook Reading Series (with Ilana Blumberg and music by Stuart Rosenberg) Madron Gallery of American Art, 1000 West North Avenue, 3rd Floor, Chicago, Il., 7:00 p.m.
November 20, 2007: Free Verse Poetry Series Hosted by Richard Fameree, Flatfile Gallery, Chicago, Il., 7:30 p.m.
August 15, 2007: The Book Cellar, 4736 N. Lincoln Ave., Chicago, Il., 7:00 p.m.
May 4, 2007: Beth Emet Congregation, Evanston, Il., 8:30 p.m.
October 28, 2006: University of Iowa Hillel Center with Tony Eprile, 7:00 p.m., sponsored by Iowa Writer's Workshop
June 25, 2006: Highland Park Public Library 3:00 PM (Part of Nextbook meet the scholar program)
June 11, 2006: Greater Chicago Jewish Folk Arts Festival (signing) 11:00-6:00
June 3, 2006: Printer's Row Book Fair, Gwendolyn Brooks Poetry Stage, Chicago, 12:30
May 18, 2006: Borders Books 1700 Maple Evanston 7:30 PM
April 4, 2006: Transitions Bookplace Chicago 7:30 PM (with Tod Thilleman)
January 19, 2006: The Bookstall at Chestnut Court 7:00 PM (with Julie Parson-Nesbitt)
November 18, 2005: Women and Children First Books (reading and reception) 4:00 PM
November 8, 2005: Bowery Poetry Club New York (reading and release party for Apples of the Earth)