News and Biography
News and Bio
New work forthcoming or recently published in the following anthologies and magazines
Poetry
My poetry collection, Shore, is forthcoming from Glass Lyre Press, 2023
"Extreme Weather" December Magazine Winter, 2021
"Aftermath" "Holy Cities" "Midnight Bridges" forthcoming in the anthology Never Forgotten:100 Poets Remember 9/11 North Sea Poetry Scene Press, Fall 2020
"First Fruit" "On Rising" "What We Can't Give Back" "Elegy: a Refusal" forthcoming in The Reform Jewish Quarterly, Fall 2020
"We Built a House" Poetry Superhighway, 2022 andforthcoming in the anthology New Voices Ed. Howard Debs 2023
"A Voice" is forthcoming in 100 Jewish Poems for the third Millenium ed. Matthew Silverman and Nancy Naomi Carlson 2020
"Ice Cycles" "Not Stopping for Sunflowers" Connecticult River Review" Summer, 2020
"Sometimes Something Just Is and you have to give it a Name" Naugatuck River Review, Summer, 2019
Essays:
"Another Country" The Examined Life Journal, Fall 2020 Notable in Best American Essays, 2021
"Writing the Fire in the Distamce" Brevity Blog May, 2020
"A Fire in the Distance" Fury: Women's Lived Experience During the trump Era, Regal Books, March, 2020 Edited by Amy Roost and Alissa Hircshfield
Back at the absorption center in Ma'alot, Israel 2014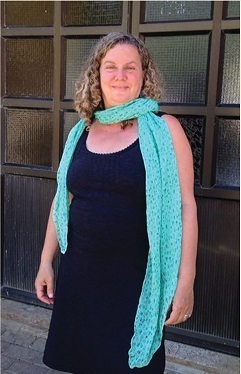 Dina Elenbogen, an award-winning poet and prose writer, is author of the poetry collection, Apples of the Earth (Spuyten Duyvil , NY 2005) and the memoir, Drawn from Water: An American Poet, an Ethiopian Family, an Israeli Story (BKMK Press, University of Missouri March, 2015.)
Her poetry has appeared in numerous anthologies and literary magazines including City of the Big Shoulders (University of Iowa, press), Brute Neighbors: Urban Nature Poetry, Prose, and photography
(De Paul Humanities Center), Beyond Lament (Northwestern University Press), Without a Single Answer: Poems on Contemporary Israel (Judah Magnes Museum Press), 100 Jewish Poems of the New Millenium (forthcoming Ashland Poetry Press), Sarah's Daughters Sing (Ktav Publishers), and magazines such as Prairie Schooner, December Magazine, Connectcticult River Review, Naugatuck River Review, Calyx, Poet Lore, Rhino, Paterson Literary Review, Voices Israel and numerous others. Her poem "A Jew in Vienna" was the recipient of the Miriam Lindberg Israel Poetry for Peace Prize.
She received two fellowships in creative nonfiction from the Illinois Arts council, as well as a grant from the Evanston Arts Council. Excerpts of Drawn from Water have appeared in the anthology Lost on the Map of the World: Jewish-American Women's Quest for Home in Essays and Memoirs, 1890-present (Peter Lang Publishers) and the Jewish Women's Literary Annual.
Elenbogen's essays have appeared in magazines including Lit Hub, The Examined Life Journal, Brevity, Tikkun, Chicago Reader, New City, Midstream, Quintesstentially New Trier, Sheridan Road Magazine, JUF News, The Times of Israel, Chicago Jewish News and the anthology Word by Word: The Iowa Writer's Workshop 75 Years (University of Iowa Press).
Her fiction has appeared in the anthology, Nice Jewish Girls: Growing Up in America, (Penguin/Plume), Hadassah Magazine, Bellevue Literary Review, and the anthology Where We Find Ourselves (SUNY Press, 2009.)
Dina received a MFA in poetry from the Iowa Writer's Workshop, and a BA with honors in English and a certificate in Jewish studies from Indiana University.
She teaches creative writing at the University of Chicago Graham School where she received the 2012 excellence in teaching award and served as acting director in 2017. She gives poetry and prose readings, leads workshops and lectures at numerous venues including universities, libraries, and cultural centers. Elenbogen consults individually with creative writers and students working on college essays.
Dina lives in Evanston Illinois with her husband Steve Siegel and their children Sarina and Ilan.